Work loving yourself
10 good reasons to love your job
Our goal is to go beyond doing a good job, our goal is to achieve professional excellence. We have researched, designed and developed new programs which make you feel good, working while enjoying what you do and above all pampering yourself.
Architecture, interior design and furniture merge to form part of the whole design of new working spaces and collective environments, considering the needs of people and their welfare. Today we look for comfortable, flexible, inspiring environments which combine work and leisure.
Move yourself, physical activity activates mental activity, share your ideas, your successes, even your failures; practice a healthy lifestyle; participate, express your opinion, feel like part of the team; enjoy what you do and finally, be amazed to see how your creativity flows and increases your performance.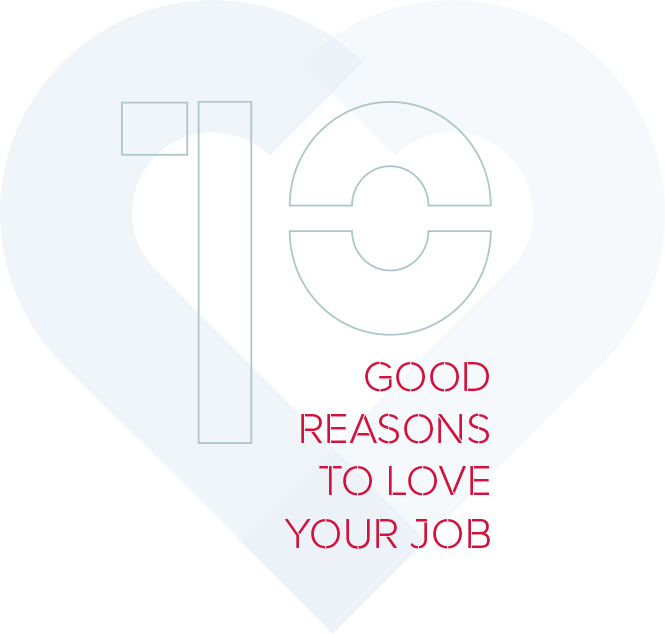 1
ENJOY WHAT YOU DO.
Working makes you feel useful and productive.
2
MAKE PRIORITIES.
Plan and set goals.
3
FIND COMFORT.
Customise your space and feel complete.
4
COMMUNICATE YOURSELF.
Share your sensations and be happy with the achievements.
5
MOVE.
Get up, do exercises, talk to your colleagues, and laugh.
6
SHARE YOUR IDEAS.
Surround yourself with creative people and let us advise you.
7
TAKE INITIATIVE.
Participate actively in team decisions.
8
OPTIMISE YOUR RESOURCES.
Always keep your work tools to hand.
9
RELAX.
Match your concentration with time to relax and socialise.
10
HAVE A HEALTHY LIFE.
Demand good habits of yourself: do sport and eat well.