Mobility
elevates your health
HEIGHT-ADJUSTABLE
health
Mobility, the height adjustable desk capable of looking after your health while you work. Working on your feet for a few hours during the working day not only has a positive impact on health and well-being, it also improves your ability to concentrate and boosts productivity.
Receive further details
HEIGHT
adjustable
A program of fixed and height adjustable tables, through electronic, mechanical and crank lifting systems
Request quote
Flexible
adaptation
Mobility is the solution for work spaces that guarantee success. Giving support to multiple cultures and work styles. The height of each desk can be regulated in an independent way. Mobility promotes individual welfare and development.
Technical documentation
MEETING
collaboration
Mobility creates stimulating office environments that promote creativity and collaboration. Mobility is flexible, versatile and receptive.
Request distribution
0% FORMALDEHYDE
All our MFC boards incorporate a 0% formaldehyde certification as standard, with the aim of promoting sustainability and well-being.
Further details
MODELS
The possibilities surrounding the conformation are enormous with Mobility, offering a wide range of levels and models that can be autonomously combined.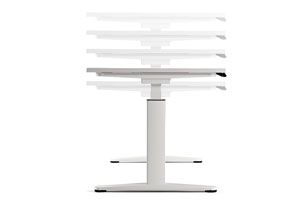 Mobility PLUS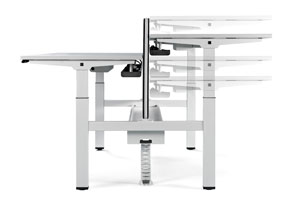 Mobility STEP
Image gallery
All the photos of the adjustable-height desk: MOBILITY
COMMITTED TO THE ENVIRONMENT
Respect for the environment in our industrial production is in Actiu's DNA. We care for our setting by creating sustainable, environmentally-friendly products.







97.5
recyclable materials
DOWNLOADS
All the documentation available on the Mobility desk: Product catalogue, image gallery, product certificates, technical specifications, Autocad library, Revit library.
Meanwhile on Actiu.com...